When talking about our Manor rooms, history and practicality fit in the same sentence. Comfortable beds and a bathroom are a first step towards the Manor feeling.
You will of course find a TV, an electric kettle and a coffee/tea set in the room. The room rate includes our Peerâ breakfast served in the main house under crystal crowns. 
Equipment
2 beds (in other room beds together and other room beds separated)
Living room & TV
Internet connection (free)
Refrigerator
Electric kettle & coffee/tea set
Hairdryer
Shower
Ironing equipment from the reception (free of charge)
Free parking in Manor parking area
Baby cot (if needed)
Located in Pehtoori Tupa manor annex (1836)
One of rooms is pet friendly (no additional charge)
One of room is pet friendly (ask more at the reception)
YOU COULD ALSO BE INTERESTED IN: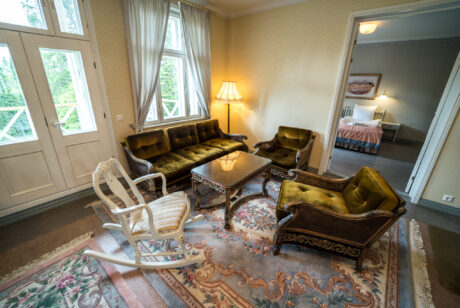 The Karolina Suite is the most elegant and atmospheric of our Suites and that's why it carries the name of the lady of the House, Karolina.
The room consists of a living room and two bedrooms which are furnished respecting the style of the epoque and history of the Manor House. You will also find your very own sauna, and a terrace with a view on the manor garden and Kajaani River. So come and live like a duke or duchess in the most beautiful Manor Suite in Northern Finland!